This incredible recipe had our mouths watering.  The quinoa crust makes it a bit healthier, yet does not skip the taste.  Perfect for a Sunday brunch, or even an early supper.  Bon appetit.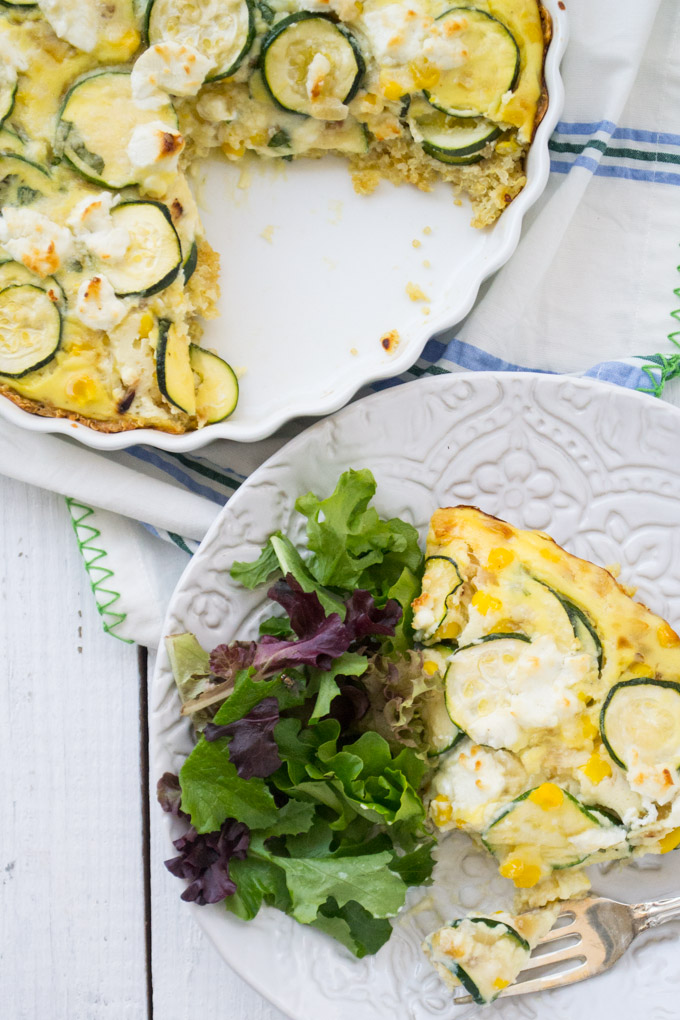 INGREDIENTS
For the crust:
1 cup quinoa
2 cups of water
2 eggs
½ cup Parmesan cheese
1 tsp. salt
For the filling:
2 zucchini finely sliced
1 cup cooked corn
1 onion chopped
4 eggs
2 tbsp. basil chopped finely
4 oz. goat cheese
15 oz. Ricotta cheese
Salt and pepper to taste
Instructions
In a fine mesh strainer rinse the quinoa with water for at least 2 minutes to eliminate the saponin, which gives quinoa a bitter taste.
Boil the water.
Cook the quinoa in a pot with the boiling water at medium heat for 20 minutes. Stir occasionally so all grains get cooked and absorb the water.
Preheat oven to 375°F
Beat the eggs lightly with a whisk. When the quinoa is ready, let it cool for 5 minutes. Then mix with the eggs, the parmesan cheese, and the salt. Then cover the base of a 10.5 inch diameter quiche mold. Press the mix in the base and borders making sure to spread evenly.
Cook the crust, in the oven for 20 minutes or until lightly golden.
For the filling, cook the onion in a pan with olive oil on medium heat until golden (10 minutes approx.)
In a bowl, beat with a whisk the remaining eggs and mix with the ricotta. Introduce the zucchini, corn, onion, basil, salt, and, pepper. Divide the goat cheese into chunks and mix with the rest of the ingredients. I left some chunks to spread over the quiche.
Cover the crust with the zucchini mix and cook in the oven until the quiche looks firm and golden on the top. (40-45 minutes approx.)
Take out from the oven and let it rest for 10 minutes before serving.
Photo and Recipe Credit:  Super F Recipes